Thomas J. Fisher
Retired after 35 years with HHS, PHS,
Indian Health Service
Tom served the IHS for 35 years before retiring on June 3, 2005. He took over as director of the agency's telecommunications division when it was established in 1990. Tom has an extensive background and experience with computer systems, local and wide area networking, and communications systems. He has been instrumental in building the agency's telecommunications infrastructure and improving the health care services provided by the agency through the introduction of new telecommunications technologies.
Tom holds a Bachelor of Science degree in mathematics with minors in physics and computer science. Outside of the IHS, Tom is interested in a variety of hobbies including teaching, ham radio, golf, hiking, and his passion -- hot air ballooning. Tom has his commercial balloon pilot's license and enjoys half ownership of the balloon "Breezy Rider." Tom is also very active working with people who have speech difficulties and was formally President of the Albuquerque Chapter of the National Stuttering Association and Board President of the Albuquerque Speech, Language, and Hearing Center; an in the tutoring program in Mathematics & Science as well and English as a Second Language.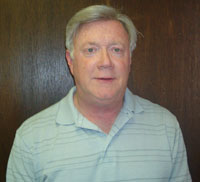 Governor's Non-Profit Volunteer of the Year
April, 2006
"I always remember the song by Neil Diamond, 'Coming to America.' The stories of the immigrant and refugee populations I work with are amazing: their 'adventures' in coming to America . I have everything; they leave everything (sic) they have ever known behind." - Tom Fisher, March '06.

On Friday, April 21, 2006 Tom Fisher was honored as Governor Richardson's Non-Profit Volunteer of the Year for his work at Catholic Charities. Tom approached Catholic Charities less than a year ago. He wanted to "pay back" for the help he had received in his life. He had tutored in math and science throughout his college career and had always thought there might be a GED student who could use his help. Tom has not, as yet, used his math or science skills with our students but, he has been introduced to a whole new world: tutoring in English as a Second Language.

When told that Catholic Charities could use his help with our (ESL) students, Tom shrugged and said he'd give it a try. The next training for ESL tutors was in Santa Fe: two consecutive Saturdays, 8:30 AM - 4:00 PM, which Tom gladly attended. "No problem". Immediately after finishing the training, he was back on Catholic Charities' doorstep ready for his first assignment—one-to-one tutoring of two brothers, who were refugees from Cuba. After that, we needed help putting together the first Volunteer Tutor Program Newsletter. Tom designed the layout and wrote an article about his experience with tutoring. When an ESL instructor needed help with our refugee computer classes, Tom signed-on and began working twice a week in those two-hour classes. With tremendous grace and good-humor, Tom has taken on his latest project: teaching English literacy skills to a small group of immigrant ESL students from Mexico and Palestine . In interviews with several of Tom's students, he was repeatedly characterized as "patient", "sensitive", and "makes me feel good about the work I'm doing."

Tom Fisher retired in 2005 after a thirty-five year career with the Indian Health Services, U.S. Public Health Service and Department of Health and Human Services. He was responsible for the design, implementation, and operation of all of the computers and networking systems throughout the country. He works now on an "as-needed" consulting basis.

Tom's family moved from Alabama to New Mexico when Tom was two and a half. He attended St. Mary's school and graduated from Valley High School, then attended college at St. Joseph's on the Rio Grande/University of Albuquerque (the present day St. Pius H.S.). He completed his Bachelor of Science major in Mathematics and minors in physics and computer science at the University of New Mexico.

Tom's volunteering extends to other organizations, as well. He is Board President of the Albuquerque Speech, Language and Hearing Center and volunteers two mornings a week at the Balloon Museum. He is also a balloon pilot and FAA certified instructor.

Tom Fisher's energy and enthusiasm are infectious. He inspires his students to reach for their goals which often include better jobs, higher education, and mentoring their children. As Tom recently wrote in an article for our Volunteer Tutor Program newsletter: "Well here I am in my 8 th week of tutoring English as a Second Language and I am having a fantastic time assisting other individuals in learning the English language."

Tom Fisher has volunteered 135 hours since starting in October, 2005.
Mayor's Award for Outstanding Volunteers
February, 2009
The MOVE UP Award Program is an ongoing non-competitive volunteer recognition program to honor outstanding volunteers for their service to others and the community.

The Mayor's Office of Volunteerism and Engagement (MOVE) manages an ongoing non-competitive volunteer recognition program to honor outstanding volunteers for their service to others and the community. The "MOVE UP" award was established to acknowledge and recognize volunteers in the City of Albuquerque and surrounding communities.



	Individuals who meet all nomination criteria will be recognized in the following way: 


	• Official certificate signed by the Mayor of Albuquerque and MOVE UP outstanding 
  	  community volunteer pin. 
	• Recognition through listing on the MOVE website. 
	• Possible feature on GOV16 television broadcasts and other media outlets. 



	Nomination Criteria: 
	• Nominations are open to outstanding volunteers in the City of Albuquerque and in
 	  Bernalillo, Sandoval, Torrance, and Valencia counties. 
 	• Recognition is for volunteers demonstrating exemplary or outstanding service to
   	  individuals, organizations, or the community at large. 
	• Members of the MOVE Advisory Board will review nomination forms on a quarterly basis
 	  and verify volunteer service. Awards will be posted online (www.cabq.gov/move).
  	  Nominees will be notified at quarterly intervals throughout each year.



On February 4, 2009, the Tom received the MOVE UP awards at a reception held at the Albuquerque Museum:

Tom Fisher: Tom was nominated by the Anderson-Abruzzo Albuquerque International Balloon Museum for helping at the museum 3-4 days a week. He handles any request given including, tour groups, computer repair, display repair and general whatever is needed and is a recent recipient of their "Volunteer of the Year Award for 2008" for his dedicated service and over 300 volunteer hours given freely to the museum.

E-Mail Announcement:

Congratulations on your recent MOVE UP award! I would like to join the staff at the Anderson-Abruzzo Albuquerque International Balloon Museum in thanking you for all you do.
Pictures


Bob Ruppenthal Education Award
2016
	
Tom was awarded the Bob Ruppenthal Education Award. This award is given in honor of Bob Ruppenthal,
a charter member of AAAA, an avid balloonist who chaired the first AAAA Education
Committee. First awarded in 1981, this award is made to a AAAA member who has
contributed significantly to the education of others in the area of balloon safety
and operation. This person must have contributed significantly in time and effort
and must have participated actively in the organization and/or instruction of
ground schools and safety seminars for AAAA and/or the ballooning community at large
Sid Cutter Award
2021
	
For those of you who don't know Tom, he is one of a kind. He is an unsung hero,
who sacrifices himself and his time, for the good of the group, without recognition. 

Tom's enthusiastic excitement and fun-loving attitude is contagious. You are inspired
to be around someone so dedicated to helping others. 

You can often find Tom down at the Albuquerque Anderson Abruzzo Balloon Museum; as a docent
 at least 2 days a week. When Tom. isn't at the museum sharing his passion for the sport,
 he is probably flying or assisting with the online store for AAAA. Tom has led a key role 
in helping AAAA bridge the gap of technology and online shopping/pick-up operations.

Without Tom, you would probably have to wait until the General meetings to pick up your items! 

Tom has been involved in volunteer work for AAAA for as long as many can remember, not saying
that he is old, but he is dedicated. Tom has been p.art of the Education committee for years,
whether that is as a proctor, the chair, a teacher. or a member. Tom still gives instruction 
to those who are willing to learn to fly. 

Tom worked for the IHS (Indian Health Service) for over 35 years before entering volunteer work
with AAAA, however I suspect that he has volunteered his entire life. Tom has always given back
to a variety of areas of importance to him, he was the President of the Board for the Albuquerque
Speech, Language and Hearing Center as well as helping the Catholic Charities and their ESL students. 

This quote sums up Tom: "At the end of the day it's not about what you have or even what you've
accomplished... it's about who you've lifted up, who you've made better. It's about what you've given
back." - Denzel Washington